Hello My Friends,
Happy Weekend Times –
So guess what this post is going to be super quick ( UNLIKE ME )
I am basically going to change your life.
Yup.
Ok maybe not but I will enhance it.
Ok so forget the "I need a new body" because its a new year crud, I am going to give you FIVE items that you need in your life – as of this moment. Lets call it an up lifter!!
I mean I tell ya what – I just bring you the goods and if these babies give you some sunshine and happiness only for a fleeting minute, then my job here is done.
Let us begin,
You need ONE piece of this bare shoulder trend.
Image via Pinterest
You. have. to. do. it. as she isn't going anywhere anytime soon – even more so now with an added ruffle, yup ruffles are back and rather large.
This MLM top is perfect for an on trend off the shoulder piece, I should know as I recently  purchased it and she's a winner. DONT TELL CRAIG, you can get her, HERE oh and she comes in a number of colors so loads to choose from. Add a little sexy off the shoulder to your life.
A FANCY pants Cap
Oh my goodness this cap, I mean a certain WOOOMANNNNN has been spotted in caps recently, I am loathed to say SHE may have picked this trend up of the ground. But whatever lets just roll with it, get it here. Add something a little different to your next get up,  or ya know when your doing active stuff in your active wear chuck her on!
THE PRINTED TEEEEEEEE
The printed TEE is back and with a vengeance, I cant get enough of them add her to any pair of denims and your out off her. Dress her up or down by adding a eff. off. rad accessory or just rock it with a pair of cons.
I am OBSESSED, I am currently sitting in my CK tee and I am going to insta story it RIGHT NOW and it wont make sense to anyone, until you read this………..
EVEN MORE NAUGHTY – don't say I didn't warn you
THE Wide Tube Belt
So this little trend is making some noise (more so in the form of leather) all the "IT" peeps are wearing them back with a plain Tee. These little babies are super CUTE and not so in your face, I mean unless you call freeing the nipple not in your face then I'm all in. Freeing thy nipple, the less bra I have to wear the better. Style it with a white Tee your best denim, a bangle, or some in your face earrings,  your new BLACK pumps and your off. I need this in my life TODAY.
A Denim Jacket
Spotted everywhere and by everywhere I mean everywhere, only this time with a twist. Oversized denim jackets work with just about any outfit, including denim on denim if your brave enough. Embroidery is making a huge wave ( even for brides ) Should I do it, wear an over sized denim jacket with ma dress………. I mean maybe……..Add your initials onto the sleeve, on the back, cut of the collar, get a funky style or go the plain oversized.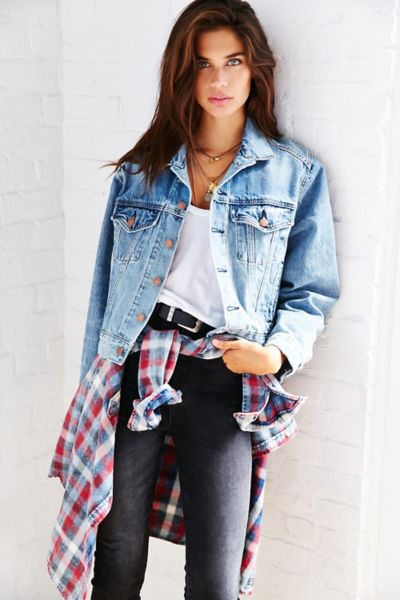 In the words of a brand – Just do it!!
Happy weekend and that – now go shopping and get in touch if y'all need me.
j.round86@gmail.com
She Out.
Image Via Hello May